Since you're a coffee lover, then you need to check out the best coffee subscriptions available today. From monthly delivery services to one-time orders, these top picks will ensure you never run out of fresh coffee beans again.
Why You're Going To Want a Coffee Subscription Box
A coffee subscription is a must-have if you're an avid coffee drinker. Not only will it save you time and money, but it will also ensure that you always have fresh, high-quality coffee on hand. Here are a few reasons why getting a coffee subscription is something to consider:
Firstly, with a coffee subscription, you'll always have your favorite blend and brand. No more last-minute trips to the grocery store or settling for generic brands because they're all that's available. You'll receive regular deliveries of freshly roasted beans straight to your door.
Secondly, coffee subscriptions offer unparalleled convenience. You can customize your delivery schedule and choose the amount of coffee you want each month. Plus, many services allow you to pause or cancel at any time without penalty.
Lastly, subscribing to a reputable coffee service means supporting small businesses and sustainable practices in the industry, along with fair trade.
Why You Want a Coffee Subscription:
Coffee subscription services deliver freshly roasted coffee straight to your doorstep.
You can customize the frequency and amount of coffee you receive based on your needs.
Subscriptions can also help you discover new roasters and types of coffee without breaking the bank.
Many subscription services also offer information about the beans' origin and tasting notes, so you can learn more about the coffee you're drinking.
Coffee subscription services often prioritize sustainability and ethical sourcing.
They work directly with farmers to ensure fair prices and labor practices.
Best Coffee Subscriptions
A weekly or monthly coffee subscription is a great way to help you add a touch of joy to your morning cup of brew and expand your coffee palate. Plus, coffee subscriptions make the perfect gift for the coffee connoisseur who already has everything. In our list of the best coffee subscriptions below, you'll find a mix of single and multiple roaster subscriptions.
Atlas Coffee Club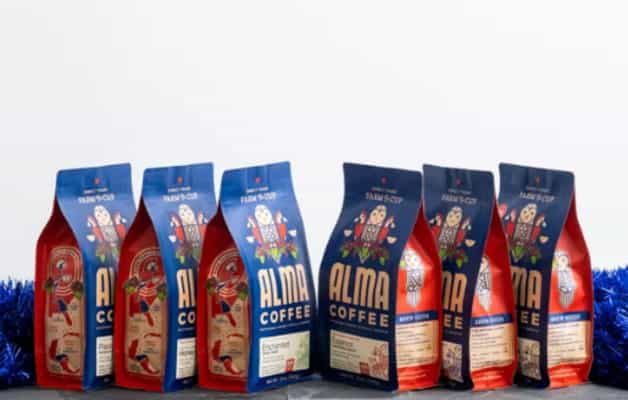 With Atlas Coffee Club, you'll try new coffee from around the world!
Atlas Coffee produces and selects micro-lot coffees from around the world. Tanzania, Kenya, Colombia & beyond. Each monthly subscription includes 12 ounces of freshly roasted coffee, flavor notes, a photography postcard, and coffee-brewing tips.
As you go through the process of subscribing, you'll select how much coffee you'd like, the process you're going to use to brew, and light to dark roast. They will need to know how you're going to brew their wonderful beans, as different brewing methods require different grind sizes.
Why We Love Atlas Coffee Club:
Single-origin coffee from farms around the world.
Full selection of how you're going to brew.
Find something new you'll never come across any other way.
You can find the current price of the Atlas Coffee Club subscription here.
Blue Bottle Coffee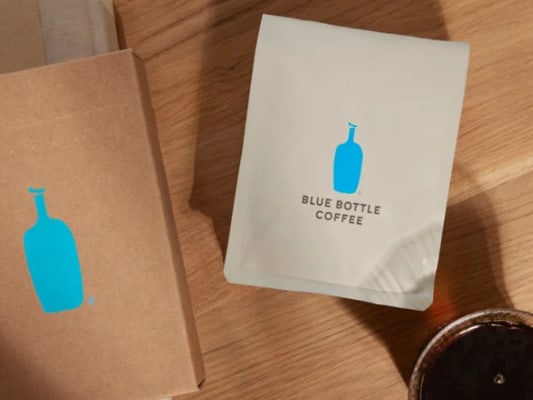 Whether you opt for single origins, blends, cold coffee, espressos, or decaf, you will surely be satisfied with a Blue Bottle Coffee subscription. This renowned coffee brand has three different subscriptions: single origin assortment, blend assortment, or espresso assortment.
As a part of your subscription, you can select which coffee you want and how much you need. You may choose a half bag, single bag, double bag, or triple bag and have it delivered weekly, biweekly, triweekly, or monthly.
Blue Bottle Coffee is the way to go if you prefer complete control over what kind of coffee you receive and how often it arrives.
Check out Blue Bottle Coffee's subscription here.
Why We Love Blue Bottle Coffee:
Flexible options on when your coffee is delivered.
Coffee is roasted daily to order in small batches.
Coffee blend options if you want extra flavor.
Trade Coffee Subscription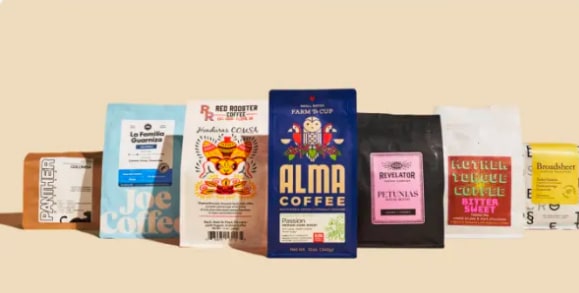 Unlike the majority of coffee subscription suppliers, Trade does not roast coffee. Instead, they partner with 55+ acclaimed coffee roasters across the nation. This allows you to choose from 450 distinctive varieties of fresh ground coffee, with large percentages originating from blended and single-origin coffees.
This is an excellent option if you can't choose only one brand. You'll have the opportunity of trying out so many different roasters. You're bound to find one you love.
You'll answer a few survey questions to find your preferred coffee. From there, they present you with brand options you'll enjoy. Next, Trade Coffee subscription sets you up for three bags a month that will be sent to your door every ten days. Your first bag is free, which is a nice touch!
Why We Love Trade Coffee Subscription:
New bag every ten days.
Adjust your frequency, quantity, and taste settings anytime.
Trade works with 52 of the nation's top roasters
You can check the availability of Trade Coffee right here.
Wildland Coffee
Perfect for the outdoors, and is one of the best coffee subscription services.
You don't need fancy equipment to make great coffee. You all need great beans, finely ground, treated the right way, and passed through hot water.
That's why the Wildland Coffee Bag gets the job done. Packed with quality flavor, it's made to be steeped as you head into the wild. No fancy gear, no mess, no headache. Just great coffee!
Why We Love Wildland Coffee:
This coffee is made to be steeped.
Single purchase or opt-in to an ongoing subscription – the choice is yours!
An ideal choice for camping or traveling due to its simple design.
You can find the Wildland Coffee subscription here.
Bean Box Subscription

Bean Box uses your personal preferences in a coffee questionnaire to choose varieties you think you'll like from small-batch, artisan roasters across the country. You can select from whole bean or ground coffee and provide specific flavors you like, whether you want one or multiple bags.
Bean Box is a great way of getting started in a coffee club, as they have plenty of options. Every four weeks, you'll get a top-off with a single-origin bean to make a cup how you like it! This is a craft coffee you don't want to miss out on.
Why We Love Bean Box Coffee Subscription:
Lowest price per cup on this list of coffee subscriptions.
Free shipping on every order.
Pause your coffee subscription anytime.
You can find the Bean Box Coffee Subscription here.
Driftaway Coffee Subscription

Driftaway Coffee offers a subscription coffee service that allows customers to try out distinctively grown single-origin coffees worldwide. Driftaway Coffee sources its coffee beans from farms that nurture coffee plants through various incubation techniques. Each grower ensures that only the healthiest coffee plants make it to their submissions. Driftaway Coffee encourages customers to invest in creativity through its coffee subscription service.
You'll start off with their explore kit that offers five coffees from around the world. This will give you a chance to try some arabica coffee beans you've never had. After you've received these five different coffee, you can do a "coffee taste test" to find one you really like.
From here, you'll hone in on what you like. Driftaway coffee will help you select a coffee profile that can cater to your subscription from here. They will suggest different coffee beans and growers from your profile.
The coffee taste testing is interesting. You'll follow their step-by-step guide to do a tasting at home in about 30 minutes.
Why We Love the Driftaway Coffee Subscription:
Coffee taste testing.
They find what you like through trial and error.
Learn new coffee brewing techniques.
You can find the current price of the Driftaway coffee subscription here.
Counter Culture Coffee Subscription

Counter Culture has brick-and-mortar venues in cities like Atlanta, Chicago, Seattle, and New York. That way, they offer a hub for coffee during the cuppings and tastings to customers of all types of coffee, including direct or indirect brew. They believe in the merits of any coffee bag they recommend, regardless of how customers brew it. They are known for having some of the best coffee available.
They roast single-origin beans to bring out their flavors, so you may want to stay away from espresso. Their coffee subscription choices will take you through the flavor profiles of different beans and how many bags you'll need.
You're sure to find something you like if you enjoy single-origin (the coffee beans were grown and processed from the exact location or crop, and often the same farm). These aren't blends of coffee, so you'll always get the highest-quality roast. They avoid Robusta coffee beans due to their harsh taste.
Why We Love the Counter Culture Coffee Subscription:
A coffee cafe with a different perspective on coffee.
They roast single-origin beans for the flavor.
Counter Culture's coffee subscription choices are designed to take customers through different flavor profiles.
You can find more information about Counter Culture Coffee subscription here.
Alma Coffee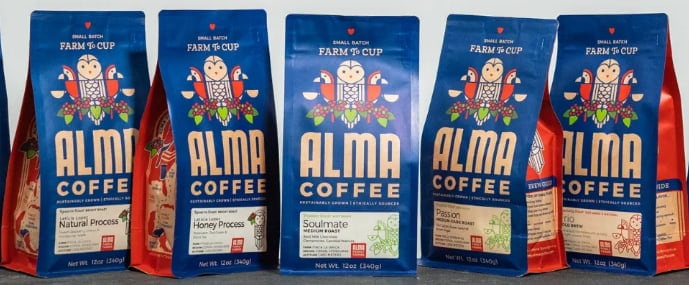 Alma Coffee is a specialty coffee roaster that is dedicated to sourcing and roasting some of the best quality coffee in the world.
Since its inception in 2018, Alma Coffee has gained a reputation for producing high-quality beans that are roasted to perfection.
Its commitment to sustainability sets Alma Coffee apart from other specialty coffee roasters. All of their beans are sourced directly from farmers who use sustainable farming practices that prioritize environmental conservation and social responsibility. This means that they produce great-tasting coffee and ensure that their products have a positive impact on the planet and people's lives.
Regarding taste, Alma Coffee offers a wide range of flavor profiles to suit every palate. They also have fantastic options for cold brew coffee.
They have a few different options when it comes to a coffee subscription. You can order one to four bags a month (that's eight cups daily!), and you can always adjust how much you receive anytime.
Why We Love Alma Coffee Subscription:
Subscription starts at only $16 a month.
They offer international shipping.
A small roaster with love for coffee!
You can check out all Alma Coffee has to offer here.
Single Cup Club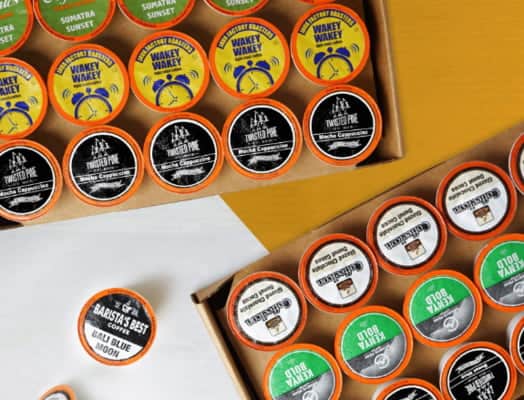 Single Cup Club offers small-batch roasted coffees in convenient single-serve cups that work with ALL Keurigs. They offer a ton of variety to keep your Keurig full.
With fifteen cups included in each delivery, you'll never have to worry about running low on your favorite beverage again. And not only will you receive a generous amount of coffee each month, but it will also be a variety of light, medium, or dark roasts to suit any mood or taste preference.
Their monthly deliveries also feature three unique blends from hand-picked artisans, ensuring each package is a special treat for your taste buds. Whether you prefer bold and rich flavors or something a little more subtle and nuanced, their carefully curated selection has something for everyone.
Plus, by supporting small-batch roasters and independent artisans with each order, you can feel good about where your coffee is coming from.
Why We Love The Single Cup Club Coffee Subscription:
They focus on K-cups for people that need something quick.
3 Unique Blends each month from hand-picked artisan roasters.
15 K-cups a month with this membership.
Best Coffee Subscription From a Small Roaster
Small roasters are passionate about their craft and take great care in selecting high-quality beans, roasting them to perfection, and creating unique blends that satisfy even the most discerning palates. By subscribing to a small roaster's coffee service, you'll get access to their exclusive offerings that may not be available elsewhere.
Not only will you be able to discover new flavors, but you'll also support small businesses that rely on subscriptions as a source of income. Many small roasters offer flexible subscription options, so you can choose what works best for your budget and lifestyle.
If this sounds interesting, check out the small roaster Alma Coffee.
Why You Should Subscribe to a Small Roaster:
Subscribing to a small roaster's coffee service offers access to exclusive offerings and supports small businesses.
Small roasters often create unique blends that cater to even the most discerning palates.
Subscribers can discover new flavors and explore the world of coffee through small roasters' offerings.
By subscribing to their coffee service, you can support small businesses and help them continue their craft.
Can you get an Espresso Coffee Subscription?
Fortunately, several companies offer espresso coffee subscription services. These services provide customers with fresh, high-quality espresso beans or pre-ground espresso that they can use to make espresso at home.
The best part about these subscriptions is that they often come with various flavors and roasts, so you can explore new tastes without venturing out from your couch.
The critical thing to remember is that espresso is a "style" of brewing. You can make espresso out of any coffee bean. For a complete breakdown, check out our guide to making espresso here.
How Much Does a Coffee Subscription Cost?
The price of a coffee subscription can vary widely depending on several factors, such as the frequency and quantity of shipments, the quality and origin of the beans, and any additional perks or benefits included in the service.
Some subscriptions start as low as $10 per shipment for basic blends or single-origin coffees, while others can cost upwards of $50 per shipment for premium artisanal roasts or rare varietals.
It's essential to do your research when choosing a coffee subscription service to find one that fits your budget and preferences. Make sure to check out our list above for the best coffee subscriptions.
Wrapping Up The Best Coffee Subscriptions
A coffee subscription is a great way to always have fresh, high-quality coffee delivered. Coffee subscriptions offer unparalleled convenience, as you can customize the frequency and amount of coffee you receive based on your needs and discover new roasters and types of coffee without breaking the bank.
Additionally, subscribing to a reputable coffee service means supporting small businesses, sustainable practices in the industry, and fair trade. This article highlighted some of the best coffee subscriptions available today, including Atlas Coffee Club, Blue Bottle Coffee, Trade Coffee Subscription, Wildland Coffee, and Bean Box Subscription. By subscribing to one of these services, you can ensure you never run out of your favorite coffee beans again.