A breve is a fluffy, Americanized version of the Italian caffè latte, using half-and-half cream instead of milk. A breve is fluffier than other coffee drinks because this ingredient increases the foam content and, of course, the fat. This rich drink is typically used as a dessert drink, but it can be a decadent dessert at any time.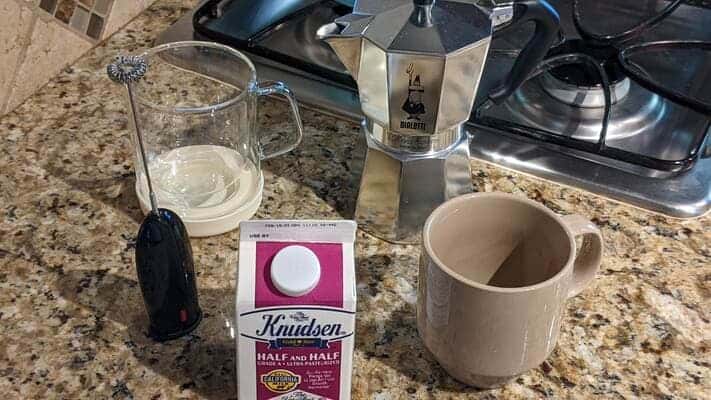 Ingredients for Breve Coffee
Finely ground coffee
1/2 cup half-and-half (about 4 ounces)
A sweetener like sugar (optional)
How To Make Breve Coffee
You're going to want to pull your shot of espresso with an espresso machine, portable espresso maker, or in this case, I'm using a Moka pot. If you need a Moka Pot, you can find the one I use here.
This is a key part of Breve Coffee and many other coffee drinks. Just like preparing the espresso, there are a few ways of doing this. For this drink, let's use a handheld frother like you can find here.
You'll want to warm up the half & half in a mug in your microwave for one minute. Your half & half should be 120f or 48c.
With your handheld frother, turn the mixer on and go up and down inside the half & half. Do this for 30 seconds, and you'll have a rich and creamy froth.
Combine the half-and-half and espresso
If you decide to use a sweetener, now is the time to add it. Combine your creamy froth and espresso, and enjoy!
Breve Coffee
Equipment
1 Espresso Maker

Moka Pot

1 Frother
Ingredients
4

ounces

Half & Half

2

tbsp

Sugar

1

ounce

Espresso
Instructions
Combine the half-and-half and espresso
Do you use a Moka Pot? If you want to see how they make stove-top espresso, please check out our Illustrated guide on how to use a Moka Pot here.
Substitutions and Variations of Breve Coffee
Iced Breve Coffee
If you would like your coffee cold, try making an iced breve. Simply brew a shot of espresso over ice and add in the milk and any other flavors as usual.
Nutty Breve Coffee
For a quick pick-me-up, try adding some hazelnut syrup or peanut butter powder to your coffee. If you wish to enjoy the nutty flavor of Nutella, this special coffee is perfect for you.
Mocha Breve Coffee
If you love chocolate, incorporate some cocoa powder or melted chocolate into your breve coffee. This is an easy way to obtain the best of both worlds, along with the taste and texture of milk!
Irish Cream Breve Coffee
Another specialty coffee drink is Irish creme breve. This mix contains some Irish cream syrup or Baileys added to coffee for a wonderfully creamy drink.
Caramel Breve Coffee
Try blending some caramel syrup with a breve for a sweet and creamy flavor. This particular mix is a good fit for coffee lovers who prefer a strong and sweet flavor.
Vanilla Breve Coffee
Vanilla bean extract is another frequent way to sweeten your coffee. Consider adding vanilla extract to some coffee to add a smoother, more natural sweetness to your morning beverage.
Breve Coffee FAQ or Tips for Success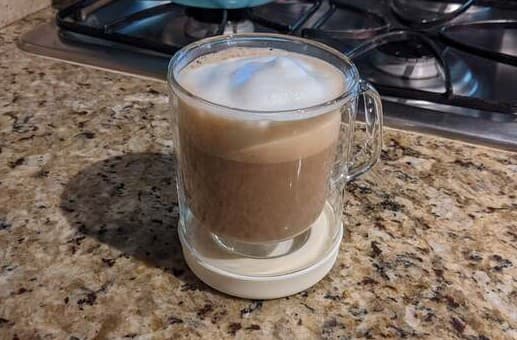 If there's half-and-half milk not on hand, it is possible to use whole milk as a substitute. This will result in a slightly less creamy texture, but nonetheless, it will be delicious. You can also use heavy cream; however, this will make your coffee even richer and may be too much for others.

The strength of your coffee is determined by the ratio of coffee to milk. If you want to make a stronger coffee, reduce the amount of milk. If you want to make a weaker coffee, add milk. It's that simple! If you are looking for a lighter alternative, use skimmed milk or dairy-free milk. You can also use less sugar or a sugar-free sweetener to reduce your calorie intake.

The best coffee to use for breve is actually a matter of personal preference. Some people prefer Arabica beans because they have a richer taste, whereas others prefer Robusta beans because they are more robust and have more body. Ultimately, it is only up to you to choose the kind of coffee you would like to use.
Wrapping Up on How to Make Breve Coffee
In conclusion, making Breve coffee at home is a relatively simple process, allowing you to enjoy all that complex flavor without having to run through the coffee shop. By using espresso and steamed half-and-half, you can easily create the perfect cup.
The process is simple and doesn't require a lot of equipment, and if you do need a Moka Pot, you can find them a lot cheaper than an espresso machine.
Plus, you can enjoy the creamy texture and sweet flavor that Breve coffee provides. Don't forget to experiment with different ratios and types of milk for varying levels of sweetness and creaminess.
If you'd like to try something different, check out our guide to different coffee beans here.