Caramel Macchiatos have become a very popular espresso drink but, a caramel "latte" macchiato is what most coffee shops make and serve.
What's the difference? A macchiato is an espresso with a splash of milk, while a latte macchiato has a large quantity of milk and espresso. Typically, coffee shops add a little bit of Valina syrup too, but I like to double down on the caramel.
So, what are we making today? A delicious caramel latte macchiato with extra caramel!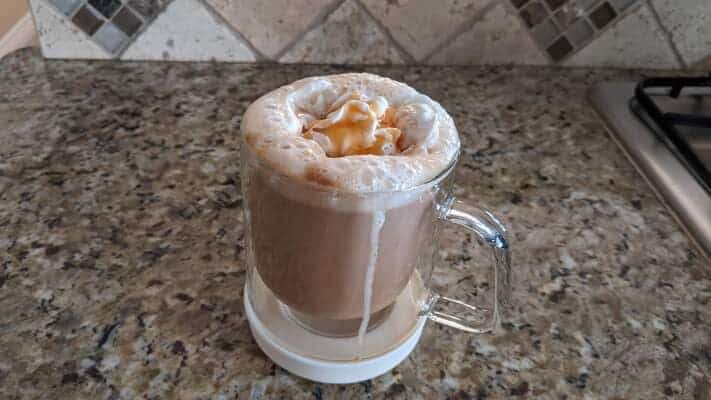 Ingredients for a Caramel Latte Macchiato
Finely ground coffee (for espresso)
tablespoon of caramel sauce
tablespoon of sugar
1/2 cup of whole milk
How to Make a Caramel Latte Macchiato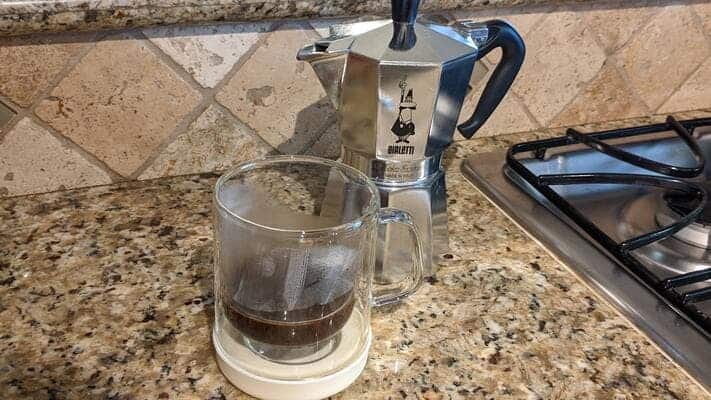 You're going to want to pull your shot of espresso with an espresso machine, portable espresso maker, or in this case, I'm using a Moka pot. If you need a Moka Pot, you can find the one I use here.
Warm milk and caramel in a pot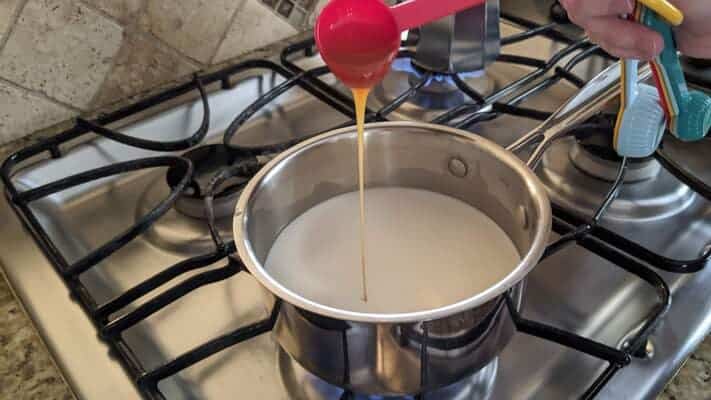 With 1/2 cup of whole milk in your warming pot, you can combine the caramel and sugar. Mix all the macchiato ingredients over medium heat. Your milk and caramel mixture should not get over should be 120f or 48c. This will keep the milk from tasting sour.
Combine hot milk, caramel, sugar, & espresso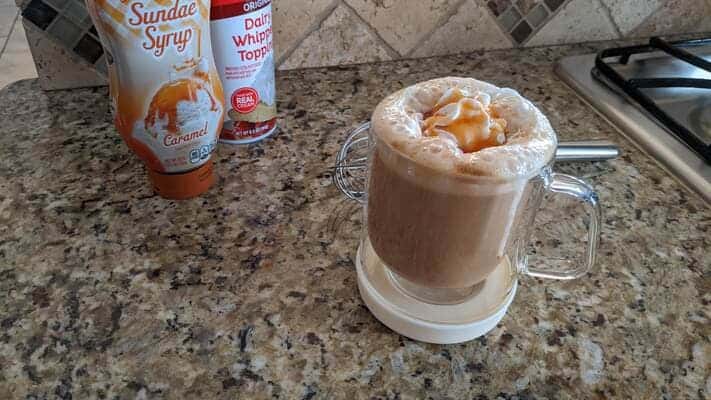 The last step is to find your favorite mug and combine everything together!
Do you use a Moka Pot? If you want to see how they make stove-top espresso, please check out our Illustrated guide on how to use a Moka Pot here.
Substitutions and Variations of Caramel Latte Macchiato
Iced Caramel Macchiato Recipe
Add some vanilla syrup to your cup or glass. On top of that syrup, pour in your preferred milk. You can try soy milk. If you aren't a fan of regular milk or don't have any on hand, go ahead and use ordinary dairy milk like almond or cashew to create an iced coffee instead.
Add ice!
Upside Down Caramel Macchiato
The inverted incarnation of the Iced Caramel Macchiato is a considerably different beverage from its conventional version. This time around, caramel remains on the bottom and does not rest on top of the beverage's cream.
To make an upside-down caramel macchiato, begin by putting caramel sauce on the bottom of the cup's base. Take a shot of espresso and pour it last. Finally, drizzle some more delicious caramel syrup over the top.
Vanilla Latte Macchiato
You're going to follow the same recipe as above for the most part, but instead, you're going to use vanilla syrup.
Frothy Caramel Latte Macchiato
Follow my recipe but while you're warming up the milk use a whisk or milk frother to make foam. While it is warming, vigorously use the whisk to make foam over the milk. This will work better if you use whole milk or heavy whipping cream.
Caramel Latte Macchiato FAQ or Tips for Success
How can I cut down on calories?
Instead of whole milk, like my recipe calls for, use a substitute. Almond milk is a popular choice, but it won't be as creamy.
What Coffee Roast Is Best Used for These Drinks?
The ideal coffee roast to create a caramel macchiato and a caramel latte is a medium roast. A light roast will be too light, while a dark roast will be too strong for these drinks. The medium roast will give you a coffee with mild flavor notes that will allow the caramel flavors to shine through and enhance the depth of the drink.
I prefer light roast coffee in general, but for cappuccinos and lattes, I like something darker.
I Don't Have an Espresso Machine. Can I Still Make These Coffee Drinks?
Yes, you can use a Moka pot, as I mentioned above, or use stronger coffee from a French press or Aeropress. I think someone that wants the best coffee should have these anyways, they are important to give a strong taste of coffee in lattes and other specialty coffee drinks.
Caramel Latte Macchiato
Equipment
1 Espresso Maker Moka Pot

1 Frother or Whisk

(optional)

1 Small pot
Ingredients
1

ounce

Espresso

2

tbsp

Caramel

1/2

cup

Whole Milk

2

tbsp

Sugar
Instructions
Warm milk & caramel in a pot

Combine hot milk, caramel, sugar, & espresso
Wrapping Up on How To Make a Caramel Latte Macchiato
Making a delicious caramel latte macchiato is surprisingly easy and fun to do. It's really not that many steps from making your normal cup of coffee.
Now that you know all the ingredients of how to make it, you can customize it however you like. Add more or less espresso, your favorite milk alternative, or any flavoring syrup that takes your fancy. Have fun customizing it and making it your own!
Want to make the best coffee at home all the time? Please check out our guide to making the best coffee!